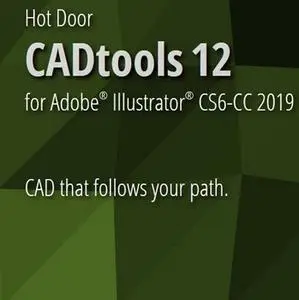 Hot Door CADtools 12.0.0 for Adobe Illustrator (x64) | 323 MB
CADtools - Precision drawing and dimensioning power inside Adobe Illustrator.
- Detail tool generates close-up views with scale control.
Click and drag dimensions or labels on every possible object, path, or point in space.
CADtools adds 92 drawing, editing, labeling, dimensioning, transformation, creation, and utility tools organized in 10 tool groups in the Adobe Illustrator tool panel.
CADtools adds 92 tools to the tool panel.
Select from a wide range of engineering and architectural scales or create an unlimited number of custom scales.
Create beautiful live dimensions as measurements, letter, number, or custom text.
Create art with custom 3D-like view angles using the CADaxonometric panel.
Set up units and precision for dimension values as well as numeric input, CADrulers and CADtools panel options.
With CADguides, customize scaled rulers and grids that can snap with CADtools drawing tools.
Instantly apply dimensions to artwork by using the CADshortcuts panel.
Numerically move and transform objects in scale with CADtracker.
Quickly access all tools and panels with CADdashboard.